WEDDINGS
A beautiful day made complete with our authentic horse drawn carriages.
A Mackinac Island wedding isn't complete without the carriage. Whether your wedding plans include a historic Mackinac church or a breathtaking garden, an antique carriage from Mackinac Island Carriage Tours is the crowning touch to your special day.
Our wedding coordinator will tailor your carriage arrangements to suit your specific needs. For the bride and groom and wedding party, choose from seven beautiful carriages in a variety of sizes and styles. Scroll down to view our selection of carriages.
We also have horse-drawn taxi service available for your guests.
Groups After Hours – For any groups of over 36 people, requesting taxi service between the hours of 5:00 PM  until 7:30 AM,
an automatic gratuity of 20%  will be added for the drivers.
Deposit Policy
A deposit of 50% is due at the time the reservation is made. The deposit is fully refundable if the reservation is canceled at least 14 days prior to the event. Full payment is due at least 14 days prior to the event. There will be no refunds for inclement weather.
We accept MasterCard, Visa and Discover cards. Personal checks or money orders will be accepted 14 days or more prior to the date of the event only.
Reservations
To make a wedding reservation or check availability, please call our Wedding Coordinator, Susan Horn, during regular office hours at (906) 847-3573 or (906) 847-3307 (business office) or e-mail info@mict.com. We suggest that you make your wedding reservations as far in advance as possible, to ensure your first choice of carriage. Taxi reservations for large parties should also be made in advance and must be pre-paid.
*A one hour minimum rental is required.
Reservations: (906) 847-3573 or (906) 847-3307 (business office)
Email: info@mict.com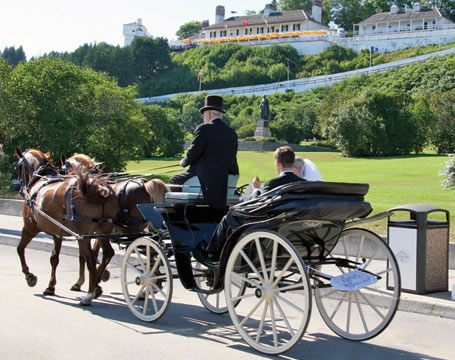 The Victoria
Seats — 2
Rates — $500 per hour, $750 – 1.5 hrs The Victor Raber
Seats — 12
Rates — $600 per hour, $900 – 1.5 hr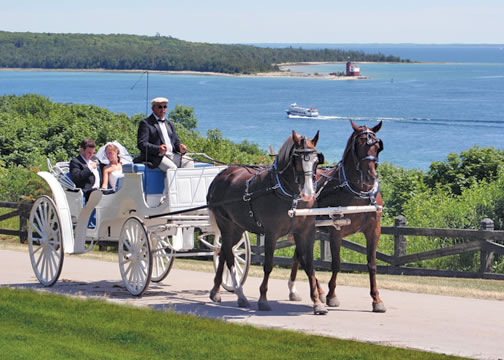 The White Vis-A-Vis
Seats — 4
Rates — $450 per hour, $675 – 1.5 hrs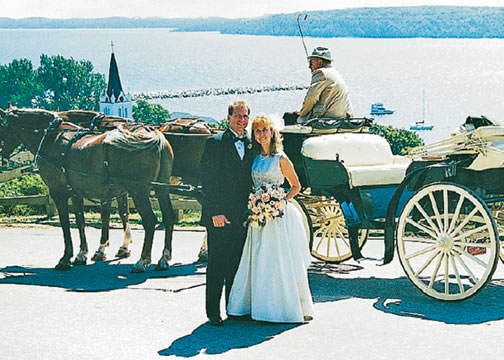 The Green Vis-A-Vis
Seats — 6
Rates — $450 per hour, $675 – 1.5 hrs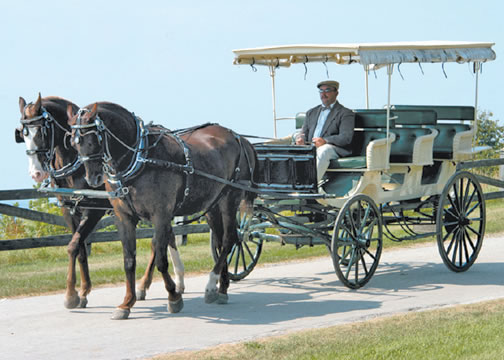 The Gillespie
Seats — 4
Rates — $450 per hour, $678 – 1.5 hrs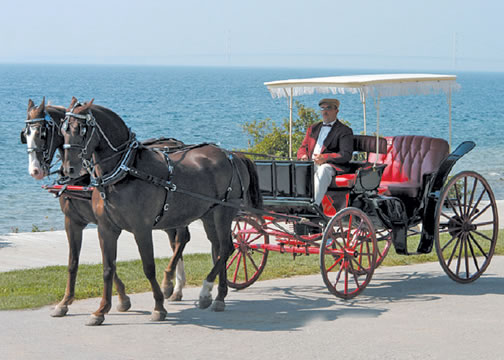 Studebaker
Seats — 2
Rates —$450 per hour, $675- 1.5 hrs
The Miller
Seats — 7
Rates — $400 per hour, $600 – 1.5 hrs